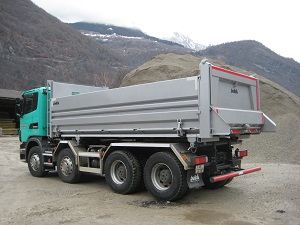 The company F. Inglin AG asked us to equip their vehicle Scania G440 with our quick-change system SOLAR 1. This system is fast and easy to handle and it allows the use of two new superstructures: the self-mixing structure BELMIX 9.7 OM-NA/SL, capacity 9 cbm , and the two-way dumper type MOESA BELMATIC II.
The truck mixer model BELMIX 9.7 OM-NA/SL isn't operated through a cardan shaft but via a hydraulic variable displacement pump attached to the motor drive which is also powering the particular Load-Sensing hydraulic system. This pump is the power unit of both the quick-change system and the two-way dumper.
Choosing the execution "Super Light", the structure's weight is reduced by 500kg in comparison with the standard model and its service life is prolonged remarkably. The electric steering system is operated through an ergonomic remote control.
The new version of the dumper MOESA BELMATIC II was developed with a new and more modern design. The trough itself is made of highly wear resistant steel. The left side wall is longitudinally divided into two segments. The opening and closing of the lower side-board segment is carried out hydraulically and means of a switch in the driving cab. The upper the side-board segment can be removed. The steel board on the trough's rear side has got pneumatic opening controlled from the cab. The upper part of this flap is demountable.