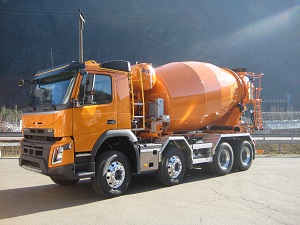 The company Näpflin Kobi, Ennetbüren, has completed its fleet by acquiring a concrete mixer Belmix 9.7 OM-SL.
The mixer-structure was built on a new Volvo FM460 8x4 which had been equipped with our hydraulic quick-change system before.

The self-mixing unit – capacity 9 cbm – is connected to the engine through a propeller shaft and equipped with the CSD (Constant Speed Drum) system. This system ensures the drum's constant rpm irrespective of the vehicle engine's speed of rotation, even while driving to the place of unloading on the job-site.

Our customer opted for the version "super light". The drum being manufactured of the thin but highly wear resistant and durable sheet Hardox 450 provides payload-optimization.

To prevent the drum's surface from splatters, the longitudinal rods of the flatbed are masked with plastic coverings.