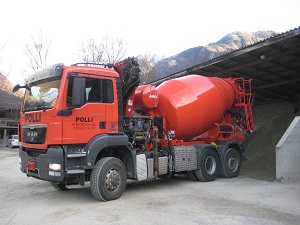 The company Polli Rolf in Schwanden / Switzerland has been substituting its old concrete mixer with a new one type Belmix 7.7 OM-NA/SL executed in the version "Super Light".

The superstructure was built on a 3-axle vehicle MAN TGS 28.480, equipped with a hydraulic quick-change system.

The advantage of this model of concrete mixer is, that it works without any mechanical connection to the vehicle's engine (e.g. cardan shaft) but through a single hydraulic system operating both the quick-change sistem and the hydraulic crane located behind the cabine.
On the vehicle there is also a hydraulic pump with variable capacity and a Load Sensing signal.

The concrete mixer is equipped with a proportional block with Load Sensing signal and its cooling unit. It is operated electrically through an ergonomic remote control.
In the cabin there is a carrier for the transmitter which can as well be used as charging device.