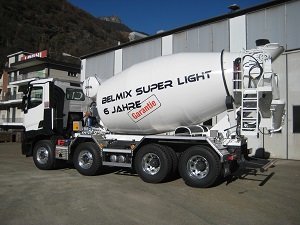 By order of the company Windlin J. AG at Kriens / Switzerland and on the occasion of the fair "Transport CH", which took place in November 2015 at Bern, we trimmed a new Renault C460 P8x4 XLOAD / 338 kW with a concrete mixer BELMIX 9.7 OM, in the version "Super Light".

Thanks to the use of highly abrasion resistant steel HB 450 for the mixer drum and the spirals, thinner plates could have been used for the walls. This resulted in an overall weight reduction and the possibility to increase the payload.

We are able to allow a six years' warranty on the mixer drum if configurated like that.

The mixer is equipped with the CSD (Constant Speed Drum) system which allows to maintain a constant drum-rotation speed, irrespective of the vehicle's engine's rpm.

The vehicle is furthermore providing a high pressure water system, a spraymatic device and plastic covers on the guide bar to protect the drums varnish surface.
Other optionals are available upon request.